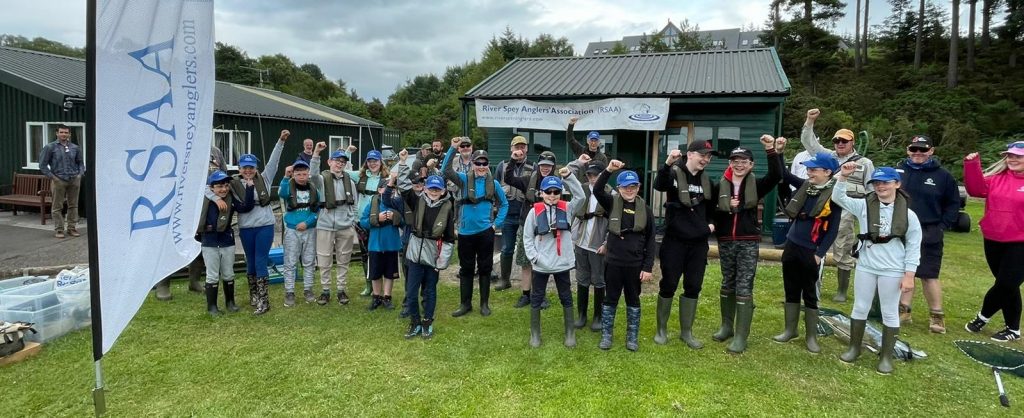 RSAA Junior Fishing Day at Wardend Fishery
July 2021
The River Spey Angling Association held its first Junior Outing since September 2020, following the recent COVID lockdowns and restrictions this year.
We were joined by Ross Macdonald and Al Peake, from LOOP who provided some great prizes, and presented the RSAA with a set of LOOP rods, reels, and lines to use in teaching and coaching angling. This is a most welcome addition to our stock of equipment and we are indebted to Ross, Al, and Gordon Sim of LOOP for this fantastic donation, which will find much use both this year and in the years ahead.
18 youngsters, aged 9- 14, enjoyed a fantastic day`s fishing in glorious summer conditions at Wardend Fishery near Elgin- a superb fishing venue with excellent facilities and good quality fighting fish! As always, we received a warm welcome from Donald, who looks after Wardend, and keeps the place looking absolutely tip top! The RSAA is really grateful to the 16 angling coaches who attended to support the youngsters in taking early steps in learning how to fly fish. Clearly, it would be impossible to organise such an event without the expertise and assistance we receive from local experienced anglers, who give of their time freely to encourage anglers new to the sport.
The session began with a great casting demo from casting instructor, David Mateer, from Inverness, and then a bit of practise with the coaches. The young anglers then enjoyed a full session of fishing supported by their coaches. We all enjoyed some delicious donuts and cool drinks at lunch, and did some target casting. The fish proved difficult to tempt in the warm summer conditions, but we persevered, and a few eventually came to the net and were, mostly, safely returned.
At the end of the day Megan Dougherty was awarded the prize for the first fish caught, and Brodie Fairbairn received the prize for most fish with 3 caught.
If you are interested in coming along to one of our events- keep an eye on our RSAA Facebook page- the next event will be advertised in the near future!